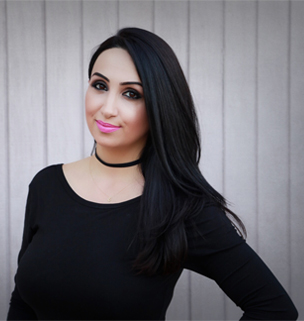 Rubina's lifelong desire to plan events and passion for bringing people together for memorable occasions motivated her to start her own business. In 2011 she co-founded Memorable Moments, LLC. Aside from coordinating and designing weddings, Rubina also plans and provides event design for bridal and baby showers, engagement parties, birthdays, and corporate events for Fortune 500 companies like Bank of America. Along with starting her business, Rubina was a Professional Events co-chair of Ventura County's LEAD for Women committee.
Rubina received her Bachelor of Arts in Management from California State University and her Master of Business Administration in Management from Woodbury University. With Rubina's education as well as her management background, she applies her professional acumen to every event she plans. Her work has been featured in luxury wedding magazines like Wedding Style and various event blogs.
Rubina's close relationships with some of the top quality vendors in the industry ensures her clients receive the best service based on their personal needs, culture, style and budget. Rubina is known for executing her clients' visions with the utmost professionalism, compassion, and dedication, but it's the personal bond she develops with her clients that truly sets her apart.
Let Memorable Moments plan your next event for a truly unforgettable experience.